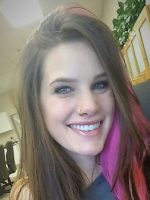 Media Coordinator
Office: 209-257-1212
As a media coordinator, my purpose is to ensure that your home is displayed on multiple platforms to catch the attention of a serious buyer that will appreciate and care for your home/property just as you did. Although my current area of expertise is based on social media and advertising, in 2018 I will have obtained my Real Estate License to better assist and serve our clients.
As a local who was born and raised in Amador County, there's a level of respect and appreciation for the history and assets of the area. My goal is not to just sell real estate, but to expose it in a way that allows clients to truly appreciate the region as I have.
I firmly believe that this business is an opportunity that will enable me to achieve my desired lifestyle, while simultaneously helping others to achieve theirs.